New Elder Installed
A special service of installation took place in Glenmanus on the evening of 24th February 2013. Rev. Samuel McCollum led the service and preached on the fact that Christ the King rules through the elders he appoints in the church. The main points stressed were:-
Christ has appointed elders in his church.
Christ has given authority to the elders.
Christ has given the elders a manual to implement.
After having answered the prescribed questions the elder elect, Mr Carlisle McCollum was installed as an elder in the Glenmanus congregation. Rev. Wallace McCollum then brought an appropriate charge to the elders and congregation. At the close of the service all present were invited to the church hall for supper.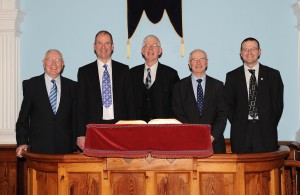 The photograph shows Mr Ross Carson (Clerk of Session), Rev Samuel McCollum (Minister of Glenmanus), Rev Wallace McCollum (Clerk of Presbytery), Mr Carlisle McCollum (newly installed elder) and Mr Thomas Carson (elder)
.