History
Towards the end of the 19th century the few Covenanters in the fishing village of Portrush worshipped in Ballyclabber. A notable exception was Mr Samuel Patton, farmer and mill owner at Glenmanus and merchant in Portrush. Mr Patton was born in Macosquin in 1820. He did not become a Covenanter until his marriage to Miss Nevin of Dervock. He then drove his pony and phaeton the twelve miles to Dervock to worship in the congregation in which his wife had grown up. He was the subject of interesting stories regarding his attempts to enforce on the Sessions of the Northern Presbytery total abstinence from tobacco and alcohol.
Mr Patton had known both good and bad times in business but, when success and prosperity finally began consistently to attend his efforts, he resolved to build a Covenanting Church in Portrush despite the fact that there were only a few members residing there. But he was a man of vision and determination. Failing to secure a site in the town from its owner, the Earl of Antrim, he proceeded to erect, on his own land at Glenmanus, a fine church, lecture hall, manse and caretaker's residence. These, with an endowment of £2,000 (yielding a valuable £60 per annum), he handed over, free of rent, to the Northern Presbytery.
Glenmanus Reformed Presbyterian Church is unique in that the church building was erected before the congregation was organised. In the 21st century, Glenmanus church buildings are located at a busy junction on the Portstewart Road in Portrush. But, when it was first built, there were few members, there were no houses nearer than the railway station and the prospects for extension were very gloomy. The population of Portrush was less than 1,800. The gift was almost an embarrassment to the Presbytery and some even feared that its existence might harm Ballyclabber and Dervock. However, the project received support from Rev. H. K. Mack of Drimbolg and Rev. John Ramsey of Ballymoney. The church was opened for worship in June 1899 and, with attendances holding up at between 50 and 100 between the summer of 1899 and the early months of 1900, it was decided by Presbytery in 1900 to move the work from the status of a preaching station to that of a congregation, with effect from Tuesday 3 July 1900. However, on Thursday 6 September, Mr Patton died without making a will and the property had not yet been transferred from his personal estate. His estate was in Chancery until 1908. So Glenmanus has had the further unique distinction of having its future provided for by a Trust prepared by the Presbytery and approved by the High Court.
The first interim Session consisted of the following elders: William Ramsey (Ballyclabber), William Williamson (Ballyclabber), Samuel Chestnutt (Dervock), Robert dark (Dervock), John F. Taylor (Ballymoney) and Joseph Lament (Ballymoney). The first interim moderator was Rev. J. A. S. Stewart of Dervock. Several unsuccessful attempts were made to secure the services of a minister. For more than 30 years the ministers of Ballyclabber, Ballymoney and Dervock conducted the services in turn at 4.00pm on winter Sabbaths, while ministers on holiday took the services in the summer months. The congregation tended to consist of retired people and the first baptism did not take place until 1924. The numbers who came to the Lord's Table were often small. In 1914 there were only 19 communicants and in the 1920s the number of communicants often dipped to 9. However, a building programme in the vicinity of the church in the early 1930s improved the prospects of the congregation so that in April 1932 there were 30 communicants.
In October 1933, 9 members and 11 adherents called Rev. W. G. M. Martin from Liverpool. George Martin had been brought up in the Dublin Road congregation, was a graduate of Queen's University
Belfast and had been ordained in Liverpool in 1931. He accepted the challenge – a call from 9 members – and his vision was rewarded when the adherents and others joined the congregation so that 50 attended the Spring Communion in 1936. During the restrictions of the war years, Mr Martin made a virtue out of necessity. Instead of 'blacking out' the church in the winter months, the service in Glenmanus was moved back to 3.00 p.m. In addition, a service was held in Portstewart Town Hall at 4.00 p.m. and, with 140 attending, became a feature of the congregation's outreach. The students at Stranmillis Teacher Training College had been moved out of Belfast to Fawcett's Hotel in Portrush and, after weekly Bible Studies were conducted there, many students attended the worship service in Glenmanus. Many were converted in what has been called 'The Stranmillis Revival'. Mr Martin laboured with conspicuous success until May 1944 when he resigned on his admission to the General Assembly as the minister of Berry Street Presbyterian Church.
His successor. Rev. J. T. Moffett Blair, was installed on 17 October 1944. Mr Blair was the son of Rev. James Blair (Kilraughts) and was educated at Coleraine Academical Institution, Magee University College, Trinity College Dublin and the R.P. Theological Hall. He had been ordained in September 1932 in Stranraer. He was an able and well-loved minister for five years. In August 1949 he accepted a call to Airdrie, in Scotland.
Rev. Adam Loughridge, minister of Newtownards congregation, accepted a call from Glenmanus on 7 March 1950. He was installed as pastor of the congregation on 30 March 1950. During his ministry the good work done by his predecessors was consolidated. His decision to accept calls from Cregagh Road, Belfast, and Ballymacashon was received with regret on 5 November 1969, after a pastorate of almost 20 years. When Professor Loughridge retired from the ministry, he and his wife became members and he subsequently was elected a ruling elder in the congregation.
George Martin McEwen from Newtownards was ordained and installed on 17 February 1972. He was a licentiate of the Eastern Presbytery and the first licentiate to be called by the congregation. He maintained the tradition of expository preaching in Glenmanus and his gifts, displayed in careful pulpit preparation and pastoral visitation, were appreciated by the congregation and by a wide circle of holiday visitors. Mr McEwen resigned in 1979 in order to be the stated supply in McKinnon, Australia, where he served for a period of five years.
The next minister was George Ball who was pastor between 1981 and 1986. Mr Ball, a native of Dromara and a licentiate of the Eastern Presbytery, was ordained and installed on 4 December 1981. Mr Ball faithfully preached the Word, promoted warm fellowship and was committed to outreach in the community. He accepted a call to Fairview and Tullyvallen and was installed as minister of these congregations on 2 September 1986. The congregation in Glenmanus expressed their appreciation of the fine ministry he had exercised in Portrush at a social meeting on 28 August.
Rev. Edward Donnelly, minister of the Trinity congregation, accepted the call of the congregation and was installed on 20 March 1987. Although his ministry lasted only three years, his expository preaching and loving pastoral care brought much blessing to the congregation. His call to return to Trinity in April 1990 was accepted with resignation by the Glenmanus members.
Andrew Stewart was ordained and installed on 5 October 1990. A member of Trinity RPC, he was educated at Queen's University Belfast, the Reformed Theological College and the Reformed Presbyterian Seminary in Pittsburgh. In March 1998 Mr Stewart resigned as minister having accepted a call to the Geelong congregation in Australia. He had been a faithful preacher of the whole Word of God and a good assessor of the needs and gifts of the congregation. His wise guidance in Session and pastoral care of both young and old alike were missed by the congregation.
In March 2004 the Glenmanus congregation issued a call to Rev. Samuel McCollum. He accepted the call and was installed on 27 August 2004.
Glenmanus has provided one student for the ministry – David McKay.
Glenmanus is probably the best known of all Reformed Presbyterian congregations. Year after year holiday visitors from all parts of the world worship in the church and, for many of them, it is their first introduction to a Covenanting service. For almost half a century the youth of the Church identified with the congregation in the summer holiday camps and, on numerous occasions, representatives from missionary conferences have attended public worship. The congregation is to be commended for the ready manner in which it has welcomed these visitors through the years.
A small but faithful band of elders has served the congregation. In the early years the interim Session gave valuable service. It was not until 1907 that the first local elders were appointed: Hugh Kennedy and Hugh McConaghy were installed, having been members in other congregations and William J. Young was ordained and installed. William Kerr and William Kennedy were installed in 1913. Other interim elders were appointed as need arose. The work done by one of them, John McDowell from Ballyclabber, deserves special notice. From 1921, at great personal cost in time and effort, Mr McDowell "kept the flag flying" in days when there was no regular minister. He cycled from Coleraine to Ballyclabber for the 11.00 am Sabbath School and noon service and then cycled to Glenmanus for the 3.00 pm Sabbath School and afternoon worship service. For many years he took his son, Wilson, on the back of his bicycle to Glenmanus. The names of other elders are John L. Caldwell, John Maconaghie, Robert Miller, Samuel H. Kennedy, David Nevin, John Elliott, David McCandless, Joseph Creelman, John A. Gordon, William McDonald, Wilson McDowell, William Wright, Ross Carson, Joseph Gilmour, Thomas A. Warnock, Thomas J. Barr, Rev. Adam Loughridge, William McKay, Stanley W. Dean, Norman McCollum, Oliver Throne and Thomas Carson.
During Professor Loughridge's ministry, extensive renovations to the church property were carried out. In 1957 a new heating system was installed in the church and in 1963 the church was renovated and a new kitchen added. During Professor Donnelly's ministry the church and church hall were linked together by the erection of a classroom and toilet block. In the late 1990s there were significant works of renovation that included the renewing of the hall roof, some major decorating of the hall and church buildings and furnishing of the manse. A new car park was added in 2000.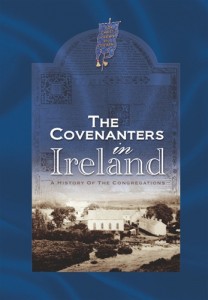 The congregation continues to have an active witness in Portrush. Several times a year an evangelistic flyer, The Anchor, is distributed to homes in the town. Each year a Go Team comes to assist the congregation with its Holiday Bible Club and with literature distribution. In addition to the week-long Bible Club in the summer, the congregation has started holding a children's club on Wednesday evenings, running from January to March and again from September to November. Summer Bible Readings are held annually and these attract many visitors. It is the congregation's desire to see many more local people joining the Fellowship -and younger families would be especially welcome!
The Meeting House is situated at 23-25 Portstewart Road, Portrush, Co. Antrim, BT56 8EH.
This history, together with accounts of all our other congregations can be found in 'The Covenanters in Ireland', available from the Covenanter Book Centre at £15.00.